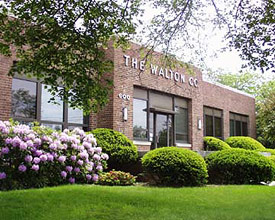 About The Walton Company
Since 1908, the Walton Company has been the leading manufacturer of tap removal tools in the world. Our one goal has always been to provide our customers with safe, economical and efficient tools to get the job done. During the past 100 years we have added to our original line of Walton Tap Extractors, the "REPS" line of Pipe, Stud & Screw Extractors and our Tap Extensions for both machine and hand tapping. Today, we believe that we have the best products for removing broken taps, pipes, studs and screws plus tapping tools for the automotive, mechanical and plumbing industries.
Company History
The Walton Company of West Hartford, Connecticut, celebrated its 100th anniversary in 2008. The company – which manufactures tools for the automotive, plumbing and mechanical industries – has been in its current 14,000-square-foot facility on New Park Avenue since 1948.
On June 10, 1902, John Kinvall of Worchester, Massachusetts was granted a patent for a "new and useful improvement in a device removing broken taps."
Over the next several years, the patent changed hands a few times. In March 1908, the patent, machinery, inventory and goodwill were sold to Ward S. Jacobs of Hartford, CT. "Walton" was the maiden name of Albina Walton Jacobs, grandmother to Ward.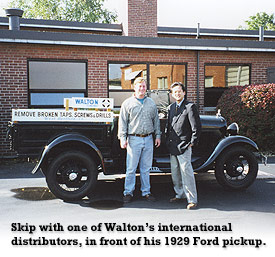 On June 1, 1936, Kenneth W. Weeks, Sr., his wife Helen and his sister Beatrice Woodward purchased the business from the Jacobs family.
In 1948, Robert A. Trask, Helenís brother-in-law, was elected Vice President. In the early 1950s, Kenneth W. Weeks, Jr. joined The Walton Company as Advertising and Purchasing Manager. Upon the death of Kenneth Sr. in 1966, his son Kenneth Jr. was elected President and Helen Weeks was elected Chairman of the Board.
During the early 1980s, with the anticipation of the retirement of Robert Trask, Kenneth W. Weeks III (Skip) was hired as Factory Manager. Skip was elected to the position of Vice President when Robert Trask retired, and subsequently to President when Kenneth Jr. retired in 1997.
The present line of Walton Tap Extractors, based on the original 1902 design, includes one in every tap size, both inch and metric. These tools – which facilitate the removal of broken taps without damaging the threads – have received the Innovation Award from Professional Tool & Equipment News, a national trade journal that serves the tool and equipment market.
The Walton Company purchased the Reps Tool Company in 1947. "REPS" Extractors quickly and easily remove broken screws, studs and pipe fittings.
In 1955, The Walton Company purchased the rights to a Tap Extension made by the Allen Manufacturing Company and designated it "Style A" tap extension for hand tapping. In 1959, we introduced our unique, in-house-designed "Style B" tap extension for both machine and hand tapping.
At The Walton Company, we are always looking for new designs for tools that fit our niche in both domestic and export markets.