Pipe Tap Extractors
Click here for a full overview of the Tap Extractors product line.
WALTON Tap Extractors, designed to fit Pipe Taps, are stocked in the standard sizes and flute styles shown below.
UPC No. 054808


Single Extractors and Replacement Parts
WALTON Pipe Tap Extractor Size
COMPLETE EXTRACTOR
EXTRA FINGERS
5-Flute
4-Flute
5-Flute
4-Flute
1/8"
20125
20124
22125
22124
1/4"
20255
20254
22255
22254
3/8"
20375
20374
22375
22374
1/2"
20505
20504
22505
22504
3/4"
20755
–
22755
–
1"
21005
–
23005
–
EDP Part No. shown indicates available flute style for each size.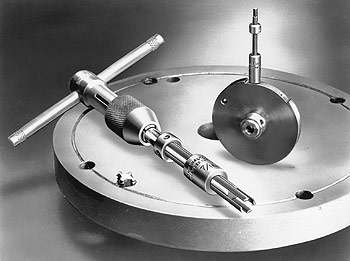 Important ordering information for all Walton Tap Extractors:
Do not use the abbreviation "EXT." on your orders. This could refer to either "Extensions" or "Extractors."
All orders for complete Tap Extractors and all replacement parts must clearly specify the flute style required. Each table shows, by size, the flute style for which that size is standard. Parts are not interchangeable between the different flute styles.
Sizes and styles not listed are considered specials and will be quoted and made on special order. A sample tap must be submitted and will be returned to you with our quote.
When ordering replacement parts, refer to our extractor parts illustration for correct part name.
Standard Sets contain sizes and flute styles as shown here. Order by Set Number. Sets containing the same sizes but in non-standard flute styles will be made up on request at no extra charge.
Orders for Pipe Tap Extractors and replacement parts must clearly specify "Pipe Tap" and indicate required flute style.
Orders for STI Tap Extractors and replacement parts must clearly specify "STI" (Screw Thread Insert) and indicate flute style required.
Threads per inch need not be specified, as Tap Extractors will fit both NC and NF taps.
Return to Walton's Tap Extractors.
California Proposition 65 Warning


WARNING: This product contains lead, a chemical known to the State of California to cause cancer, and birth defects or other reproductive harm. For more information: www.P65Warnings.ca.gov.