Tap Extensions for Machine and Hand Tapping
Walton offers two styles of Tap Extensions that extend the reach of standard taps and allow tapping in deep holes and awkward locations. Use of Style B Tap Extensions will virtually eliminate the need for costly, special-length taps. They can be used over and over because they won't wear out, become dull or break.
Tap Extension Styles, Sizes & Ordering Charts: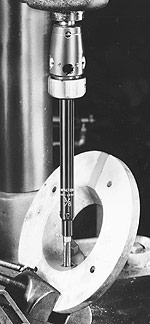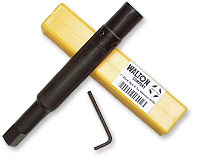 Walton Style B Tap Extensions can be used for both machine and hand tapping, are each 8" long and are available in the following sizes: #0 to 1-1/2" (1.6mm to 38mm) for standard taps, and 1/16" to 1" for pipe taps. The tap is held securely in the deep socket by two set screws bearing 90° apart.
Style B Features:
Accurate, easy access into hard-to-reach tapping locations. The smaller socket end OD permits the extension to pass through a standard liner bushing.
Construction to close tolerances and carefully heat-treated alloy steel for strength and durability. Square and round sockets conform to size standards of leading tap manufacturers.
A secure hold. Each extension is designed for a specific tap size. The tap, supported by the close-fitting deep socket of the extension, is held firmly in position by two socket set screws bearing 90° apart on the square of the tap.
Low cost. Extensions are considerably less costly than special length taps and can be used again and again.
California Proposition 65 Warning


WARNING: This product contains lead, a chemical known to the State of California to cause cancer, and birth defects or other reproductive harm. For more information: www.P65Warnings.ca.gov.