Walton Extracts: News & Information for the Automotive, Mechanical & Plumbing Industries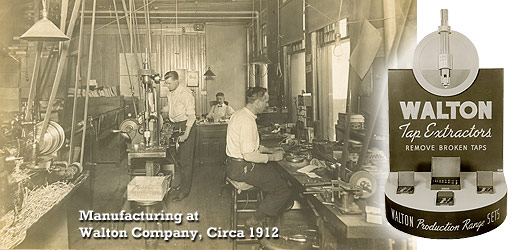 One Hundred Year Old Walton Company Continues to Progress in the Twenty-First Century
One hundred years ago, an enterprising Ward S. Jacobs founded the Walton Company and began to manufacture Tap Extractors. Today, with a spirit of innovation, Kenneth "Skip" Weeks III sits at the helm of Walton Company purchased in 1936 by his grandfather. Located in West Hartford, Connecticut, Walton Company remains a top manufacturer of quality tools for the automotive, plumbing and mechanical industries.
Based on the original 1908 design, Walton has maintained their production of tap extractors, which facilitate the removal of broken taps without damaging the threads. Walton's current line includes one in every tap size, both inch and metric. In addition to tap extractors, Walton has expanded its product line to include Tap Extensions for machine and hand tapping, and REPS Extractors, which quickly and easily remove broken screws, studs and pipe fittings.
Forging ahead in the twenty-first century, Walton Company seeks new designs of tapping-related tools to expand its line of safe, efficient, economical and quality products in both domestic and export markets. Upholding Walton's dedication to the industries it serves, Weeks affirms, "Our tools have stood the test of time, and Walton Company's product line will continue to evolve and meet the needs of our customers for at least another 100 years."
For more information on Walton Company's history or product line, please contact Skip Weeks at 860-523-5231, email sales@waltontools.com or view the company's full Company History here.